In discussions with our clients over recent months the topic of ethics committee involvement in early access programs (expanded access, compassionate use, named patient, managed access etc.) has frequently arisen. Typically, the suggestion is that a program-specific ethics committee is convened to review all patient requests and approve/prioritize patients seeking access to an unlicensed medicine. At first glance there seems to be little to be opposed to in this, but what actually is the benefit of such an approach for patients, physicians and pharma/biotech companies? And is such an approach suitable for all programs?
The rationale cited for ethics committee involvement in early access programs is to bring fairness to the process of deciding which patients gain access to a medicine within a program. Often this is due to a stock limitation, meaning that the full number of potentially eligible patients would not be able to be treated within the scope of the program.
It could be argued that companies should not put a program in place if they do not have sufficient stock to satisfy anticipated demand. In our experience it is uncommon that a company does not have sufficient stock to supply anticipated demand. Conversely, if there is sufficient stock then there is no requirement to individually assess patients beyond the core inclusion criteria (which often mirror the pivotal trial inclusion/exclusion criteria) of the program. The decision to prescribe sits with the treating physician and it could be argued that companies need not be involved in the decision-making process if a patient falls within the eligibility criteria defined.
The European Organization for Rare Diseases (EURORDIS), in its 'Compassionate Use Position Paper' of April 2017 [1] sets out a number of reasons why it opposes the involvement of ethics committees in early access, principally a lack of transparency and abrogation of responsibility by the pharmaceutical company. There is validity in these objections.
There may occasionally be a role for ethics committees in early access, but only in some very exceptional circumstances, for example in the scenario of a small biotech with (as yet) no supply chain capability beyond sufficient for clinical trials, with a product for a serious rare disease with high unmet need, impressive PII results and a highly engaged patient community. Outside of such instances, a more suitable approach would be to either delay the opening of a program until sufficient stock is available, or to limit the geographic scope of a program to keep it within available stock capacity. Whilst it could be argued that this disadvantages patients in countries where the program is not available, in reality, very, very few pre-approval access programs are truly global in nature.
Allied to that, a early access program is often the last resort for a patient in desperate need. For such a patient to be denied access to a potentially life-saving treatment, based on any grounds other than they are not medically suited to the treatment is difficult to justify. A cleaner approach would be to tighten the inclusion/exclusion criteria to restrict treatment to a medically-defined population who may be most suited to the treatment.
[1]
https://www.eurordis.org/news/improve-compassionate-use-programmes-ensure-patients-early-access-medicines
About Stuart Bell, VP Consulting, Inceptua
Stuart Bell has more than 20 years of healthcare consulting experience, with a particular focus in unlicensed medicines and early access. Stuart is responsible for Inceptua's consulting covering strategy and policy, real-world evidence, communications and market access. Prior to Inceptua, Stuart pioneered the development of global corporate strategies on early access and developed the first early access-specific EDC for real-world data collection at Idis/Clinigen.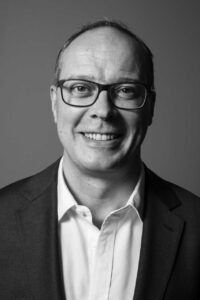 Stuart Bell, Vice President, Consulting, Inceptua Medicines Access